Geek Logo
As someone using (by choice) an iPhone, an Android phone, an iPad, and Windows and Linux desktops and laptops, I decided I needed a loyalty sticker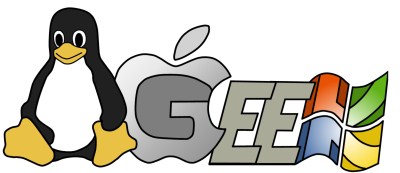 Link to full size JPG (white background)
Link to full size PNG (transparent background)
SVG Coming sometime
...More Coming Sometime...
Work(s)
licensed under a
Creative Commons Attribution-NonCommercial-ShareAlike 3.0 Unported License
.
Outgoing Voicemail
Some people say they enjoy my outgoing voicemail message, so here's a link to the audio.
Outgoing VMail Message
...Nothing Yet...
I will eventually dump some of my writings in here


CSS Templates and Tutorials
>
code-sucks.com
- Nice templates and snippets to help jump start your CSS work.
>
cssnewbie.com
- This helped me a lot with CSS based navigation.
...More Coming...
I'll try to keep adding useful links in here as I find them.